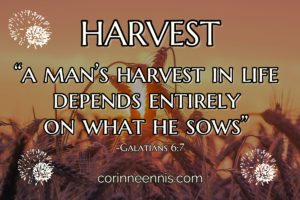 "While the earth remains, seedtime and harvest, cold and heat,
winter and summer, and day and night shall not cease" 
This is a fact of life, a law that you and I cannot change. Whether you do not care much for the cold of winter, it will come. If you dread the heat of the summer, it will come. If you don't like the night hours they are coming anyway. Whatever seeds you plant, expect a harvest.
The seeds that we sow is what we will reap. God teaches us the words that we speak, the actions we take, the time and the money we invest are seeds. "A man's harvest in life depends entirely on the seeds that he sows; so, we must not grow weary in doing good, for in due time we will reap, if we do not give up." Galatians 6:7+9.
We learn here that if we don't give up, if we don't get tired, if we are faithful to cultivate and give tender care to the seeds we planted, we will reap a beautiful and bountiful harvest. We do this by watering (speaking God's promises) and pulling out the weeds and pruning (cutting out negative thoughts, words and actions).
What we need to know about the law of seedtime and harvest:
We reap what we sow. Life is filled with choices, choices that affect us on an everyday basis in everything we do. This means our daily choices are not without significance. They affect us and others in dramatic ways whether we see it immediately or not.
We reap in a different season than we sow. God will not be mocked. No man can get away with God's laws. Sooner or later our choices will return to haunt us or rejoice us. What we sow, we reap, but the thing that is so deceptive is that we reap in a different season. "Because the sentence against an evil deed is not executed quickly, therefore the hearts of the sons of men among them are given fully to do evil" 8:11.
We reap more than we sow. The harvest is always greater than the seed planted. The sobering thing is that sowing works in the positive as well as the negative. "They have planted the wind and will harvest the whirlwind" Hosea 8:7. "Still other seeds fell on fertile soil, and they produced a crop that was thirty, sixty, and even a hundred times as much as had been planted!" Matthew 13:8.
We reap in proportion of what we sow. The more we plant, the more we reap and if we plant a significant seed we will reap a significant harvest. This means if you have a few dollars left, don't spend them but sow them. "Give, and you will receive. Your gift will return to you in full–pressed down, shaken together to make room for more, running over, and poured into your lap. The amount you give will determine the amount you get back" Luke 6:38. "And He looked up and saw the rich putting their gifts into the treasury and He saw also a certain poor widow putting in two mites. So He said, "Truly I say to you that this poor widow has put in more than all;  for all these out of their abundance have put in offerings for God, but she out of her poverty put in all the livelihood that she had". Luke 21:1-4.
We cannot do anything about last year's harvest, but we can about this year. What was done last year, last month, yesterday or even an hour ago is past and gone. There is no time machine to take us back and make changes. We either reap a joyful harvest or a burning one or maybe a portion of both. So, like Paul said, "No, dear brothers and sisters, I have not achieved it, but I focus on this one thing: Forgetting the past and looking forward to what lies ahead, I press on toward the goal to win the prize of God's heavenly calling in Christ Jesus" Philippians 3:13-14. "Forget the former things; do not dwell on the past. See, I am doing a new thing! Now it springs up; do you not perceive it? I am making a way in the wilderness and streams in the dessert" Isaiah 43:18-19. It is important to reconcile your past: "If we confess our sins, He is faithful and just to forgive us our sins and to cleanse us from all unrighteousness" I John 1:9.
I encourage you to hear God's calling to come to a new place and stop looking back. Hey, you are not going that way anyway! Remember Lot's wife who turned into a pillar of salt because she looked back? This means to me she didn't want to follow the plan of God but was consumed with tears and frozen by the grief of not letting go of her past.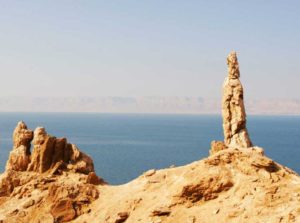 It's never too late to make a brand new start. We do this by controlling our thoughts, our words and our actions. By investing our money in good ground and investing our time in ourselves, our personal and professional relationships. Repeat again and again. Soon you will reap a bountiful harvest if you don't give up!
Conclusion:
"Remember this: whoever sows sparingly will also reap sparingly, and whoever sows generously will also reap generously" II Corinthians 9:6
"Give freely and become more wealthy; be stingy and lose everything" Proverb 11:24
If you want to be rich … GIVE!
If you want to be poor … GRASP!
If you want abundance … SCATTER!
If you want to be needy … HOARD! 
**If you like what you read share it with your friends 
Subscribe here to receive our latest news
Get Coached! There is always a reason