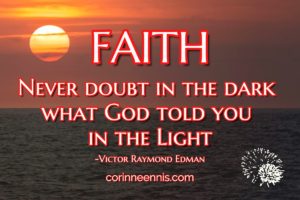 God has given each one of us a measure of this precious gift. Faith is what enables us to believe and reach into God's invisible world to take possession of His great promises. It is the vehicle that connects us to God Himself. He says that without faith it is impossible to please Him, for He rewards those who diligently seek Him (Hebrews 11:6).
Faith helps us in so many ways:

It gives us assurance when we are going through a hard time.

It keeps us from hopelessness and despair.

It serves us to accomplish something greater than ourselves.

It brings healing and deliverance.

It gives us the ability to trust.

It helps us navigate through life's seasons and transitions.

It gives us the ability to receive what we need or what's impossible.

It overcomes the world
Jesus said: "Have I not told you that if you believe you will see the glory of God?" (His power, His goodness and His favor) and "It will be done according to your faith" (Matthew 9:29). So, use the measure of faith you already have. Just like a muscle, you must exercise it. The more you use it, the more it grows.

Remember, the angels are also here to help fulfill God's Word (Psalm 103:20-21). So, speak it, believe it and in due time receive it.
One of the greatest expressions of faith you can display is to be fed up with your situation, pray for what you truly desire, believe God for it, speak the promise of His Word and thank Him until you receive it. Don't give up!
Renew your mind with the light of the Word and be ready when darkness comes:
"The righteous shall live by faith" -Rom. 1:17 – Gal. 3:11 – Heb. 10:38

"For assuredly, I say to you, whoever says to this mountain, 'Be removed and be cast into the sea,' and does not doubt in his heart, but believes that those things he says will be done, he will have whatever he says. Therefore, I say to you, whatever things you ask when you pray, believe that you receive them, and you will have them" -Mark 11:23-24

"The righteous cry out, and the Lord hears them; he delivers them from all their troubles" -Psalm 34:17


"So, then faith comes by hearing, and hearing by the word of God" -Rom. 10:17

"Faith shows the reality of what we hope for; it is the evidence of things we cannot see" -Heb. 11:1

"And whatever things you ask in prayer believing, you will receive" -Matt. 21:22

"For nothing will be impossible with God" -Luke 1:37

"Have faith in God" –Mark 11:22

"Jesus said to him, if you can believe, all things are possible to him who believes" -Mark 9:23

"For everyone born of God overcomes the world. This is the victory that has overcome the world, even our faith" -I John 5:4
**If you like what you read share it with your friends 
Subscribe here to receive our latest news
Get Coached! There is always a reason