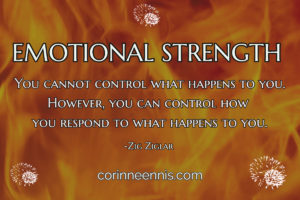 How many times do we react negatively to a recurring situation? We do this over and over! We react to distasteful words spoken by a loved one, or to the memory of unpleasant circumstances that occurred a while ago. It can leave us full of anger, revenge, bitterness, shame, this feeling of being down in the dumps or wallowing in self-pity. Ask me how I know?
So, how do we overcome these emotional weaknesses? How can I personally take control over this constant impulse to react every time my buttons are pushed? What do I do when a bad memory is recalled like a 3D movie? How can I subdue these urges that trigger bad habits?
I want to share some powerful keys that I use to restore balance. And no, it's not through alcohol, drugs or sedatives! These are a temporary way the world offers to regain peace or stability. But they all have negative side effects and can become addictive, if we abuse them. Jesus says, "Peace I leave with you; my peace I give you. I do not give to you as the world gives. Do not let your hearts be troubled and do not be afraid" (John 14:27). Paul says, "Do not be anxious about anything, but in every situation, by prayer and petition, with thanksgiving, present your requests to God.  And the peace of God, which surpasses all understanding, will guard your hearts and your minds in Christ Jesus" (Philippians 4: 6-7).
Spend daily quiet time with God. I encourage all of you who feel stressed, depressed, oppressed, weighed down by negative circumstances or words, come to Jesus who promises rest for our weary soul. Resting and waiting upon the Lord is a great exercise that will fill you with His Peace and show you things you don't know (Jeremiah 33:3). If you are in a state of overwhelm or emotional stress, it may take a little while before you can regain emotional balance without any thoughts or distractions rising. Take some deep breaths and keep practicing. Even if you only set aside 5 minutes. "This is what the Sovereign Lord, the Holy One of Israel, says: Only in returning to me and resting in me will you be saved (healed, rescued, delivered, preserved, prospered, etc.). In quietness and confidence is your strength. B

ut you would have none of it

" (Isaiah 30:15).
Meditate and speak the Word (His Will). Hebrews 4:12 tells us that the Word of God is powerful, quick and sharper than a two-edged sword. It cuts between what is of the soul (mind, emotions, will, intellect) and what is of the spirit (inward part, real you) and of the joint and marrow (physical body). There are awesome benefits when meditating on the Word and proclaiming it. It produces healing, deliverance, forgiveness of sin, salvation, answered prayers, righteousness (right standing with God), success, prosperity, understanding, wisdom, spiritual growth, maturity, increased faith, just to name a few. "Your Word is a lamp to my feet and a light to my path" (Psalm 119:105).
Forgiveness and letting go. Choose to forgive and to let go. If the past is haunting you, reconcile with it. There is nothing you can do about it, so let go and start fresh today. This is a new day, a new hour. Let the blood of Jesus cleanse you and wash away all negative feelings and images. I understand forgiveness is a process. But do this as often as needed, until all these feelings and painful memories are gone. Until it does not affect you anymore. A sobering verse in the Bible is that if we don't forgive, neither does our heavenly Father forgive us. These words of Jesus often helped me forgive: "Father, forgive them for they don't know what they are doing" (Luke 23:34).
Prayer of agreement. This is a powerful tool Jesus gave us: "Again, truly I tell you that if two of you on earth agree about anything they ask for, it will be done for them by my Father in heaven. For where two or three gather in my name, there am I with them" (Matthew 18:19-20). Find someone of the same mind and beliefs as you and agree together in prayer. Agree for things you want done in your life, family, business/career, ministry, relationships, finances, etc. The name of Jesus breaks every chain and destroys every curse! Cast out some devils if necessary. Let the anointing break the yoke of bondage. It's time to be free!
Praise & worship. We cannot change circumstances, choices people make or what they do, we cannot change the past and neither can we predict the future. However, we can change the course we are on, by steering our life in the right direction. Praise & worship is a powerful tool. When we praise, God comes down in our midst. When we magnify Him, heaven comes down. Miracles, prophetic words and breakthroughs can erupt. So, put on your garments of praise, for the spirit of heaviness and let's praise the Lord!
Self-control. When confronted to a situation, just stop yourself. Take a deep breath and rethink your answer or behavior. Don't tell me you can't do this. Don't tell me you can't help getting out of control with outburst of anger or rage. I got this revelation, "Yes, I can stop myself!", when I heard Joyce Meyer tell the story when she was in full blown anger mode, screaming at her kids and someone knocked on the door. When she opened, she saw the pastor of the church standing there and she instantly went from full fledge anger, to sweet as pie, like nothing ever happened. So, this demonstrates you can switch on and off strong emotions. I am pretty sure you experienced this, I personally have. Self-control is also part of the fruit of the Spirit. Cultivate it, work at it until it grows strong in you. "A person without self-control is like a city with broken-down wall" (Proverb 25:28).
His ways and thoughts are far better and higher than ours. Let them become yours. His mercies and compassion are new every morning (Lamentations 3:22-23). Goodness (favor) and mercy will follow us all the days of our lives (Psalm 23:6). I love the Word of God and I cannot live without it! Proclaiming His Word out loud and with confidence will eventually bear its fruit. Nothing can stop it or resist it. It is eternal and final authority. He says you are the head and not the tail. You are above and not beneath (Deuteronomy 28:13). When the storms of life rage, be like the eagle. He starts mounting up higher and higher until he is above the stormy clouds, in the blue and peaceful sky. The peaceful sky for us is the place where we regain and maintain peace, emotional strength and stability (Isaiah 40:31).
So, use these keys to restore your emotional state. If you need someone to agree with you in prayer for a breakthrough, do not hesitate to contact me. I'm here for you.
"For assuredly, I say to you, whoever says to this mountain, 'Be removed and be cast
into the sea', and does not doubt in his heart, but believes that those things he says
will be done, he will have whatever he says. Therefore, I say to you, whatever things
you ask when you pray, believe that you receive them, and you will have them?
-Mark 11:23-24
You will keep him in perfect peace, whose mind is stayed on You,
Because he trusts in You. Trust in the Lord forever,
For in Yah, the Lord, is everlasting strength.
You are blessed and loved,
Corinne 🙂
**If you like what you read share it with your friends