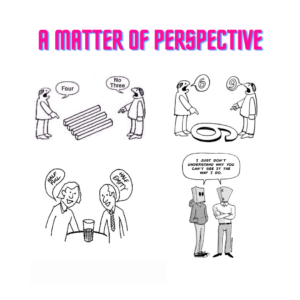 How something appears is always a matter of perspective. Perspective is a point of view. It's the lens we see the world through and determines how we view ourselves, others, and everything else around us.
Have you ever wondered how two people can look at the same thing and have two different outlooks? It always depends from what angle it is viewed.
Sometimes life can be difficult. It just is! It can be:
Messy
Confusing
Strange
Painful
Perplexing
Unpredictable
Heavy
Scary
So, today for those who are feeling gloomy, depressed, down in the dumps, or whatever else that dark spot is called, the beauty is we can change the way we look at it. And then the things we look at will change.
The truth is so much of our happiness depends on how we choose to look at the world and our circumstances.
Many times, David started his songs (Psalms) in despair, anguish, and discontentment. However, he did not remain in that state of mind. He always encouraged himself. He spoke or prophesied to his own life. He called upon the Lord to save Him.
So, let's not waste any more time in gloom and doom, and let's have another perspective by renewing our minds with these promises and encouragement from the Word and Truth of God.
"Why are you in despair, O my soul? And why have you become restless
and disturbed within me? Hope in God and wait expectantly for Him,
for I shall again praise Him for the help of His presence"
Psalm 42:5
"In the multitude of my anxieties within me, Your comforts delight my soul"
Psalm 94:19
"Do not be anxious about anything, but in every situation, by prayer
and petition, with thanksgiving, present your requests to God. And
the peace of God, which transcends all understanding, will guard
your hearts and your minds in Christ Jesus"
Philippians 4:6-7
"God is our refuge and strength, a very present help in trouble"
Psalm 46:1
"Fear not, for I am with you; be not dismayed, for I am your God;
I will strengthen you, I will help you, I will uphold you with my
righteous right hand"
Isaiah 41:10
"For He satisfies the longing soul, and fills the hungry soul with goodness"
Psalm 107:9
"He restores my soul. He leads me in paths of
righteousness for his name's sake"
Psalm 23:3
"Call to Me and I will answer you, and I will tell you great and
mighty things, which you do not know"
Jeremiah 33:3
"Come to me, all you who are weary and burdened, and I will give you rest. Take my yoke upon you and learn from me,
for I am gentle and humble in heart, and you will find rest for your souls. For my yoke is easy and my burden is light"
Matthew 11:28-30
"The Lord will work out His plans for my life. For your faithful love,
O Lord endures forever. Don't abandon me, for you made me"
Psalm 138:8
"Who among you fears the Lord and obeys his servant? If you are walking in darkness,
without a ray of light, trust in the Lord and rely on your God"
Isaiah 50:10b
Were you blessed by what you read? 
**Share this article with your friends, co-workers or family member
**We also would love to hear from you. Leave us a message below