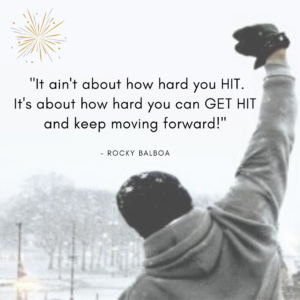 I have this confidence, because I have seen the faithfulness of God…
"When I walk through the water, He is with me. And through the rivers they shall not overflow me. When I walk through the fire, I will not be burned, nor shall the flames scorch me" Isaiah 43:2. He will make a way where there is no way.
I just got back from a family emergency trip to Switzerland. My mother fell and broke her hip where she already had a hip replacement. A few days after the surgery she had a stroke which left her impaired with speech and cognitive skills. The sad part is they are saying she will not be able to return home. So, I had to get my dad situated and taking care of. Such as meal delivery, house cleaning, laundry service, doctor's appointments, etc. No matter what, we are remaining positive and hopeful. My mom has not lost her smile or the desire to live 🙂 
No matter who you are, or think you are, life will hit you hard, unexpectedly. And when it does, you are confronted with the choice to get up, fight back, move forward or just crumble under the pressure and remain in a place of defeat. You remain there through fear, blaming others, pointing the finger, fault finding, self-pity, etc. This reminds me of a cartoon I used to watch when I was a little girl called "Calimero". A little black duck who always says, "It's an injustice, it is!" or in our everyday language "It's so unfair!".  
Like in boxing, you are not defeated when you fall. You can get up and get right back into the fight and win. However, you are defeated when you don't get up and the referee finishes the count down.
There is that period of time, after the fall or shock, where you get your bearings back, regain your strength, evaluate the situation, get yourself up and move forward towards victory.
One thing I have learned: nothing in this world is forever. Things change or come to an end. We must be conscious of this very truth. If not, we will suffer unnecessarily.
So, you will ask me, how do you overcome these hard hits life throws at you? I'm glad you asked 🙂
The first step is to have faith in God. Meaning believing He has the best in mind for you. He is not the cause of this horrible situation. Second casting all your cares on Him for He cares for you. Do not carry this burden on your shoulders. Give it to Him, place it in His care and he will guide you and put things in place for you. God has equipped us with three virtues or qualities we must develop to become resilient and overcome the world (life's hits):
FAITH (belief, trust, conviction)

HOPE (confident expectation)

LOVE (charity, regards)

 
"And now abide FAITH, HOPE, LOVE, these three; but the greatest of these is LOVE"
I Corinthians 13:13
"Now FAITH is confidence in what we HOPE for and assurance about what we do not see"
Hebrews 11:1
"May the God of HOPE fill you with all joy and peace as you trust in Him, so that
You may overflow with HOPE by the power of the Holy Spirit"
Romans 15:13
"There is no fear in LOVE; but perfect LOVE casts out fear, because fear involves torment.
But he who fears has not been made perfect in LOVE"
I John 4:18
"For everyone born of God overcomes the world.
This is the victory that has overcome the world, even our FAITH"
I John 5:4
FAITH is the ingredient/vehicle that brings our HOPE (promises of God/desires/dreams/wants) to pass. LOVE is the motivation that drives us to make right decisions. Not only for ourselves, but also for the welfare of others. This prevents us to live a selfish life.
So today, or whenever life hits hard in any area,
Think about what you desire the outcome to be. What do you HOPE will happen?

Exercise your FAITH in believing your HOPE will come to pass in the future

LOVE yourself and others unconditionally. Be patient, re-evaluate and never give up

 
"Let us hold fast the confession of our HOPE without wavering,
for He who promised is faithful"
Hebrews 10:23
Remember, God never promised that we will not suffer in this life. However, He promised that He will walk with us in our valleys. He will be right by our side, and His grace (favor) will be enough to get us through the other side. "For I am the Lord your God who takes hold of your right hand and says to you, do not fear; I will help you" Isaiah 41:13. 
I can testify of the goodness and faithfulness of God… Throughout this trip, I saw His hand, His love and favor in everything I did and wherever I went. Doors were opening, things were falling easily in place. The love, prayers and support of friends and family were real and carried me through this rough time. I had peace and joy in my heart when I returned, knowing everything was in order. Thank you.
I leave you with this quote from a well-known world champion boxer, Rocky Balboa:
"Let me tell you something you already know. The world ain't all sunshine and rainbows.
It's a very mean and nasty place. I don't care how tough you are it will beat you to your knees
and keep you there permanently if you let it. You, me, or nobody is gonna hit as hard as life.
It ain't about how hard you hit. It's about how hard you can get hit and keep moving forward.
How much you can take and keep moving forward. That's how winning is done!"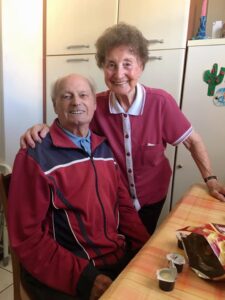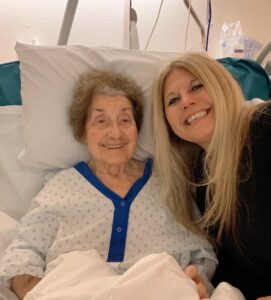 My parents June 2019                          My mom February 12, 2020
(she turned 94 on 2/11/20)
**If you like what you read share it with your friends