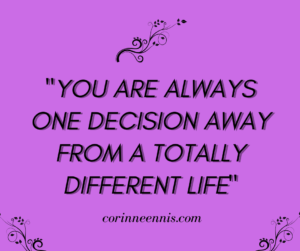 Today's Gold Nugget: DECISION
I find this quote to be true in my own life. Every time I go through a stressful or uncomfortable situation, I try my best to evaluate the reason for these feelings and find a way to change my thinking and behavior by making a new decision that will break the cycle and change the course of my life. I don't know about you, but I hate being tormented in my mind.
So, the good news is you don't have to go days, weeks, or even years of mental turmoil by constantly revisiting a stressful situation or falling into the same trap over and over. I know it can be traumatic and very discouraging.
This trigger is called "memory recall" if you are a Christian or your brain on "automatic pilot" if you are a neuroscientist. For everyone else, you are in reacting mode. However, we need to know who is behind this: the true enemy of your soul, Satan the deceiver. He is skilled at reminding you or showing you past circumstances and creating new ones that will trigger these same old feelings. He knows what pushes your buttons. He had a lot of practice throughout the centuries and if his tactic works, why would he change it?
For example, have you ever asked yourself, why am I always reacting this way in these situations or why am I always attracting the wrong people or avoiding them? However, evaluating your feelings will bring understanding and clarity. Assess some good questions such as, what are the reasons I feel this way and act this way? What causes this same movie to be played over and over? 
Now, let's look at some ways to help you make a decision that will change the course of your life and break the cycle of memory recall.
Joyce Meyer says it best, "Where the mind goes, the man follows".
8 Ways to break the cycle of memory recall and make decisions that will change the course of your life:
Forgive I believe this is the first step of everything we want to change. Forgiveness is a powerful tool, and n

ot forgiving only hurts you, not the offender. The Word of God and medical science prove that unforgiveness leads to many illnesses, even cancer. Forgiveness has 3 ways: You ask God to forgive you, you forgive others their trespasses against you and you forgive yourself.

So, set yourself free, do not delay!

Assess what your feelings are: anger, rejection/self-rejection, abandonment, pride, fear, vengeance, discouragement, etc., and forgive.
Be Humble Humility is a protection against the wiles of the devil. Pride opens you up to all kinds of evil and ultimately a fall. Meaning when the movie starts playing, stop it right here and there. Give it to God. It can be played in your mind or in your behavior towards certain recurring circumstances. Cast it upon Him and in due time He will exalt you above this mess. In other words, do not enter the storm by being prideful and starting to argue with your thoughts or with actual people. Stop it in its tracks. I know, it's hard! But it can be done. If the Lord says you can, then you can do all things through Him that strengthens you. Practice makes perfect. 
Turn Away – Break Agreement If a relationship is toxic if the person doesn't want to forgive, change or grow up, then turn away and move on. If you cannot remove yourself (i.e. married or co-worker), refuse to go down to their level by arguing or entering into their negative mess. Shut them up or move into another room. Let it go and don't look back. 
Be Fearless Remember God has given you a spirit of power, of love, and a sound mind. You can't have faith and fear at the same time. They are the exact opposite. So, choose to stay in faith instead, at all costs. Faith comes from the Word of God and fear comes from Satan. The phrase "fear not" is found in 144 verses in the Bible. 
Pray the Will of God Faith comes by hearing and hearing by the Word of God. If you need stronger faith in an area of your life, go to the Word, and find scriptures that will strengthen your faith. Pray them over your life. I encourage you to download the free e-Sword App on your cell or desktop. It has a Strong's Concordance and all kinds of Bible versions and powerful searches/tools. I absolutely love it!
Your Thinking Your thoughts are powerful and will direct the course of your life. As a man thinks so is he. You are not at the mercy of what comes to your mind or what comes your way. You do have power over what you are thinking. You can shut these thoughts up. The best way is to counteract them with the Word of God. It might take a lot of effort and tenacity in the beginning but as you do it, it will lose its hold. These thoughts pattern are called the strongholds of the mind. 
Journal Your journal is your safe place to write down all your feelings and thoughts. You can also write a non-confrontational letter or make a phone call to mend a bad blood relationship. You can also decide not to send it, but this exercise will liberate you.
Seek Peace Let the peace of God rule in your heart and govern all your decisions. Learn to become sensitive to the inward peace God has given you. You will develop the ability to remain stable and make the right decisions during confrontations or hard situations to deal with. Peace is a fruit of the Spirit so if you nurture it, pay attention to it, it will grow.
In your quiet time look at what steals your peace and your joy (strength). Evaluate and make a decision that will turn your life around. 
Renew your mind and strengthen your faith with these truths:  
"But understand this, that in the last days dangerous times [of great stress and trouble] will come [difficult days that will be hard to bear]. For people will be lovers of self [narcissistic, self-focused], lovers of money [impelled by greed], boastful, arrogant, revilers, disobedient to parents, ungrateful, unholy, and profane, and they will be unloving devoid of
natural human affection, calloused and inhumane, irreconcilable, malicious gossips, 
devoid of self-control [intemperate, immoral], brutal, haters of good, traitors, reckless, conceited, lovers of [sensual] pleasure rather than lovers of God, holding to a form of [outward] godliness (religion), although they have denied its power [for their conduct nullifies their 
claim of faith]. Avoid such people and keep far away from them"
"Let the peace of Christ [the inner calm of one who walks daily with Him] be the controlling factor
in your hearts [deciding and settling questions that arise]. To this peace indeed you were called
as members in one body [of believers]. And be thankful to God always"
Colossians 3:15 AMP 
"Blessed are the peacemakers for they shall be called the sons of God"
Matthew 5:9
"Be anxious for nothing….Let your requests be made known to God…And the peace of God,
which surpasses all understanding, will guard your hearts and minds through Christ Jesus"
Philippians 4:6a-8
"For though we walk in the flesh, we do not war according to the flesh. For the weapons of our
warfare are not carnal but mighty in God for pulling down strongholds, casting down arguments
and every high thing that exalts itself against the knowledge of God, bringing every thought
into captivity to the obedience of Christ"
II Corinthians 10:3-5
"And when you stand praying, if you hold anything against anyone,
forgive them, so that your Father in heaven may forgive you your sins."
Mark 11:25
"For I will forgive their wickedness and will remember their sins no more."
Hebrews 8:12
"If it is possible, as much as depends on you, live peaceably with all men"
Romans 12:18
"If people are causing divisions among you, give a first and second warning.
After that, have nothing more to do with them"
Titus 3:10
"Brothers and sisters, I do not consider that I have made
it my own yet; but one thing I do: forgetting what lies
behind and reaching forward to what lies ahead"
Philippians 3:13
Were you blessed by what you read?
**Share this article with your friends, co-workers or family member
**We also would love to hear from you. Leave us a message below